After Memorial Day at our beach cabin, which is very neat and tidy. I decided that I needed to do some sprucing up of my craft room. So I started with what I thought would be the most fun, my stamps! I wanted to remove all my red rubber stamps from the wood, put them on static cling foam and put them in clear DVD holders to make things a little more organized. I already had most of my clear stamps stored in clear CD cases in the type of wall system shown below: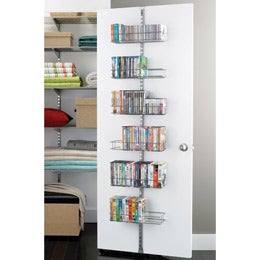 I did a little research and found out where to buy the clear
DVD
cases and I ordered the cling foam from eBay. While I waited for the cling foam, I started adding all the clear stamps I had not stored yet and the red rubber stamps that came with the cling foam to the DVD holders. Then I started removing the stamps from the wood....long story longer...I have about 70 hours into this project and I am still not finished! It's not that I have too many stamps as you can NEVER have too many stamps! :) It is more because the first stamps didn't have a picture on the back so I had to stamp the image on a white label sticker and then cut it out and apply it to the DVD holder. I mean what good is a clear holder if you can't tell which stamp it holds?!
Anyway...So I read on a blog that you could use
static cling film
instead of the
cling foam
, which meant that I didn't have to remove all that foam.
I started searching for the film, but instead of using the brand that was recommended on the blog, I decided I would be
thrifty
and use the office store brand. All was going well until today. I had several stamps all clinged (is that even a word?) up and ready to go in a case.
When I was about halfway finished loading them into the case, I noticed dust on my fingers. It turns out that as I was arranging the stamps so they would all fit in neatly, the cling backing stopped clinging and started to flake off. Apparently the "cling" can only be used ONE TIME (that was not stated on the packaging!)... What the heck!! So, I have ordered the other cling film (which turns out to be the same price as the store brand…some savings, huh…) which CLEARLY states that it is
re-positional
. Want to know the best part?
While I wait for the new "correct" cling film I get to remove the original film I glued on those stamps. Fun times...
Oh, did I tell you that with all the pulling stamps off the wood, cutting labels, etc. that my finger, thumb and hand are sore?
Not to mention my backside that's been parked on a chair all that time.
Do you know a good story to explain to my co-workers why I am standing so much and not using my index finger?? A funny thing happened on my way to work...