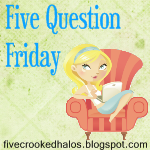 This week's statements:
1. Do you apologize to your kids if you're wrong?
Oh yes! I don't think you can teach reality if your children think you are perfect and never mess up.
2. Do you have a class ring, letterman's jacket, or similar obscenely priced high school "must have"?
I still have my ring and my letterman's jacket! (25 yrs later!)
3. If you could be one age for the rest of your life, what age would you choose?
31, I didn't have much stress and I felt really good. You are also taken more seriously since you are not a 20 something and still want to have fun but not make dumb choices.
4.
What is your favorite (unused) baby name?
Mercedes
5. I
f you could make your child like something what would it be?
Cleaning up after himself! (He's 22!)