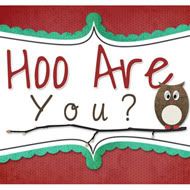 Here are this week's questions!
1. Do you prefer sweet or salty foods?
I gravitate to sweet food most of the time. I like salty foods too though.
2. Name your 3 BEST personality traits!
I'm a good listener,
sympathetic
, and honest.
3. Name your 3 worst personality traits!
Bullheaded (I like to be right), seeing life in black and white, opinionated
(It's the being right thing again)
4. Do you collect anything?
Mostly craft and paper-crafting supplies. Oh and cat hair, I collect it on my bedspread, my sweaters, my pants, the carpets.

5. What is your favorite season of the year?
I love fall! The warm days and cool nights. The changing colors on the trees. Pumpkins, corn, crock-pot cooking of soups and stews, football. Everything about fall!
Head on over to
Night Owl Crafting
and join in the fun!