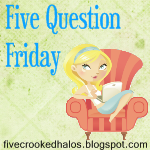 This week's statements:
1. When I was little, all I wanted was a

Horse! Never got one but I still like them. Not so sure I would like one now as I don't think I have the time to enjoy it.
2. I always want to love to

exercise consistently

but no matter how hard I try, I don't.
3. The

long

of it all is that this depression recession does not look like it will end anytime soon!
4. The mist around the mountains makes me

wish I capture it on film or canvas better than I do.
Happy Autumn and thanks for stopping by!