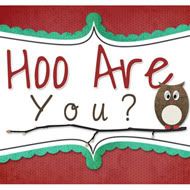 Here are this week's questions!


1. What are your favorite 3 things about fall?
Turning of the leaves, the weather, Football!
2. Are you a football fan and if so who is your favorite team?
Um, yeah! I like the Seahawks! The Colts, the Titans and the Cardinals too!
3. What is your favorite fall scent?
Pumpkin and the smell of first rain!
4. So you have seasonal allergies?
Yes, Cottonwood is the worst and we get it twice a year up here in the NW.
5. Have you started Christmas shopping yet?
I am doing homemade cards and gifts, I have been planning on what and when to to get started.
Head on over to
Night Owl Crafting
and join in the fun!