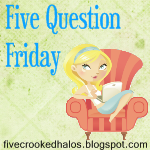 This week's questions &
My Answers:
1.
What giveaway would you like to do on your blog?
Money!
2.
If you had to choose between natural artistic ability and natural athletic ability, which would it be?
Honestly, I would be happy with either one.
3.
Do you ditch the coat the minute it becomes "spring" or are you a holdout for more cool temps?
I live in the Pacific Northwest, Spring starts around
Memorial Day and Summer starts July 5th. I always have a jacket with me!
4.
What would you do if you won the mega millions lotto of 1/2 billion dollars?
I would take care of my immediate family, pay for college for my son.
Possibly start up a business that helps people get/find the help that they need. I had a friend that needed help recently and it was difficult for me to get information on how/where to go to get help. I got a lot of run around and I would like to find an easier way for people in need to get that information as quickly as possible.
I would also take a vacation. A nice long one!
5.
You are at a hotel by yourself...what do you do?
Read a book or watch TV. I have no problem being by myself, I would not be bored.
Head on over to
FQF
and join in the fun!
Thanks for taking a look!