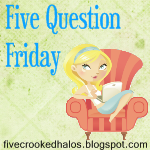 This week's questions &
My Answers:
1.
What advice would you give a couple getting married?
Don't do it...
2. If you could tell your 16 year old self ONE thing, what would it be?
Ignore the oppressors and just SHINE!
3.
What do you do to keep cool in the summer? (AC, windows, fans, swimming, etc.)
I didn't want AC (too expensive for WA where it doesn't get hot...) but hubby talked me into it. Best decision ever!
4.
What did you (or your wife) crave most while pregnant?
Fish and chips, which was really strange as I didn't eat fish at that time...
5.
Who is your favorite TV mom? Why?
I don't have one, but the first person to come to mind was June Cleaver. I was lucky enough to be a stay at home mom for my sons first seven years and I can honestly say, I NEVER looked like June at the end of the day...
Head on over to FQF and join in the fun!
Thanks for taking a look!