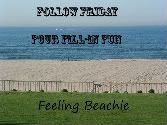 This weeks statements with my fill-in's:
1. Sometimes I wonder if I should quit my job but I know I won't.
2. A peppermint white chocolate mocha is very yummy!
3. I got mybody shape from my dad's side of the family…
4. I make the best chocolate chip cookies; I just don't make them often.
Hilary is always looking for statements so head on over and join in on the fun! If she picks your statement you get to co-host the hop!
To follow along and join in the fun click here or the picture above.