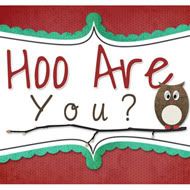 Here are this week's questions!
1. Do you type on a keyboard the correct way or do you peck like a cute little chick?
I type the correct way. Thank goodness I took typing in High School or I would be pecking!
2. Typically how long does it take you to get ready in the morning?
I take my showers at night and usually pick out my clothes so it takes me like five mins to get ready in the morning! My son is the slowest in the house and my husband is not much faster than him!

3. Do you prefer lip gloss or lipstick?
Lipstick. I need color, I usually get the all day lipstick and try to remember chap stick or something to keep them from getting to dry. I didn't even know they still made lip gloss. I think I was in Jr. High the last time I used gloss! That was in the 80's!

4. Do you take clothes to the dry cleaner or wash them yourself even if they say dry clean only?
I have some of my older work clothes that I take just because I suck at ironing. I am lucky though because my mom has to go almost every week and she picks up what I drop off otherwise I would have things there forever. (example, they kept a shirt for me for 10 months one time!)

5. Do you prefer Wal Mart or Target.
WalMart! We have only had WalMart's for about 5 or 6 years and I went to Target. But Target was SO busy and the parking was horrible so I stopped going. I go every once in awhile but don't usually buy much...
Head on over to
Night Owl Crafting
and join in the fun!
Thanks for taking a look!