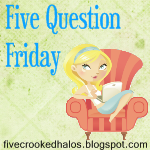 (Special thanks to Melissa (@Melissa_M80), Tricia (@mamamarchand) from Mama Marchand's Nest, Pam (@trooppetrie) from Troop Petrie, Lindsey (@bloggerlinds) from A Dollop of My Life, and Tonya (@Tonyamaries) from The Heart Desires
for their question suggestions!
The last question was from me!!! That is so cool! Thank you Mama M!
This week's questions &
My Answers:
1.
Would you grow your hair out to donate it?
I would if I could. As someone who has Alopecia and wears a wig 24/7 I think it is an awesome gift for someone to give.
2.
What song makes you think of summer?
3. Are you a
flip flops or sandals kind of person?
Flip flops if they don't make the flip flop sound. Otherwise sandals.
4. F
avorite summer treat (ie ice cream, snow cones, etc)?
Does Maragrita count? If not, a mint oreo blizzard from DQ.
5.
Do you do something special for the father of your children?
I usually make a card for my husband and that's about it. When my son was younger, he and I made dinner and we worked on crafty gifts. But now that my son is in his 20's I usually just tag along out to dinner. It's kind sad cause those were some fun times.
Head on over to FQF and join in the fun!
Thanks for taking a look!