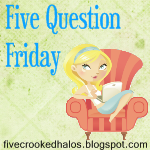 This week's questions &
My Answers:
1. What do you keep a stock pile of?
Nothing really. I would like to have more tp & paper towels on hand but sadly the hubby says no. We do buy ours at Costco in packs of 48 & 18 so it's not like we don't have some on hand, I just want to make sure we don't run out...
2. If Ben & Jerry asked you to invent an ice cream, what would it be?
First thing that popped into my mind was caramel apple pie. I have never had it but is sounds good. I also think that a kettle corn flavor would be yummy.
3. How do you blow off steam?
4. What would you do if you had an hour to yourself anywhere within a ten mile radius of your home...no kids, no hubby, just you?
Grab a latte and head to the craft stores just to wonder around. I look at almost everything in the store just to see it. I don't usually buy anything that I don't need but it is just nice to see what else is out there that I might want to do in the future. As long as there are not screaming little ones in the store, it seems to relax me.
5. When you were 16, what was your curfew in the summertime?
Sun-Thurs 10pm, Fri & Sat 12am that was the standard. It changed based on what I was doing and who I was with. RARELY did it change to a later time to come home...
Head on over to FQF and join in the fun!
Thanks for taking a look!