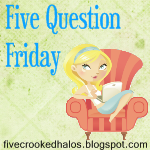 This week's questions &
My Answers:
1.
Where do you hide junk when people come over?
I used to hide dirty dishes in the oven...
2.
Do political ads help you decide who you are going to vote for?
No, I usually know after the

primary

who I am voting for so all of the ads are annoying! Only 18 days to go!
3.
What's your favorite holiday party to host?
I don't host parties for others but I always cuddle up with a blanket and hot cocoa for It's a Wonderful Life to have a party of one.
4.
You go to an island with your husband and can only take one personal item.
What is it?
Earplugs...
5.
If you found out your spouse was a Dexter style serial killer (only kills people to save others) would you rat?
Hell no, the next "other" he would want to save is himself and I would be wacked!
Head on over to FQF and join in the fun!
Thanks for taking a look!