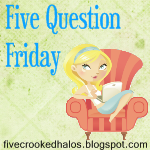 This week's questions &
My Answers:
1. W
hat album/cd/download are you embarrassed to admit you have?
Eminmem - Lose Yourself
(bad language)
2. W
hat's the one thing your spouse does better than you?
He is my bug killing hero!
3.
When do you start buying Halloween Candy?
I used to start buying mid October but it seems now if you don't buy it before October there is not thing left.
4.
Family closets - Yay or nay?
I don't know what a family closet its for sure, but if it is what I am thinking, big NAY!
5. W
hich home/cleaning chore do you hate the most? Why?
Cleaning toilets! Nasty. I would rather do the kitty litter.
Head on over to FQF and join in the fun!
Thanks for taking a look!