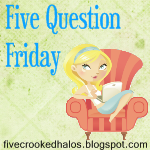 This week's questions &
My Answers:
1
.
What is a must in a hotel room?
Honestly, anything I write down will make me sound like a snob. I like a clean bathroom, especially the shower floor. I like to have a chair in the room so that you don't always have to sit on the bed and air conditioning is always a plus!
2.
Which Olympic event would you be best at?
HAHA I would get a Gold in sitting on my butt! I suck at pretty much everything else.
3. W
hat's your stance on the Chick-fil-A subject?
4.
One thing you said you'd never do as a parent, but totally have.
5. W
hat's the weirdest thing you've ever found at a yard sale?
Again Mama's answer fits me to a T!
Although after reading about the utensils, I think I might need to take a page out of Howie Mandel's book and start bringing my own with me when I eat out...
Head on over to FQF and join in the fun!
Thanks for taking a look!