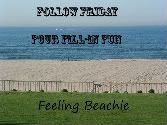 I have no desire ___
I love the smell of ___because____
I wish that my ___________ would magically_________
In one month I ____________
My statements:
I have no desire to go to the beach when it is cold.
I love the smell of campfire because it reminds me of camping as a kid.
I wish that my weight would magically melt away!
In one month I hope to have some craft entries in the fair.
Hilary is always looking for statements so head on over and join in on the fun! If she picks your statement you get to co-host the hop!
To follow along and join in the fun click here or the picture above.