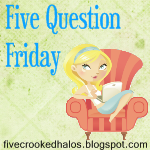 This week's questions &
My Answers:
1.

What is one grammar issue you cannot let go without correction?
Grammar? What is
grammar? Wait, isn't that someone on Real Housewives?
2.
What's your favorite thing about fall?
Everything! The crisp air. The colors. My birthday. FOOTBALL!
3.
What's your favourite dish to take to a potluck?
I only do one potluck a year and it is my family reunion. I bring store bought fried chicken and usually only eat what I brought. I'm a little
ocd about germs and food that others cooked (even family).
4.
When do you start Christmas (Holiday) shopping?
I only buy a few gifts and that is usually a day or two before for Christmas. I am big on homemade gifts, so I am buying supplies for that all year round.
5.
Did you move homes a lot growing up?
Nope we only moved once. Thank goodness. I could not have handled more that one time.
Head on over to FQF and join in the fun!
Thanks for taking a look!