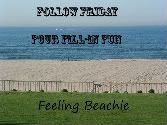 This weeks statements with my fill-in's:
1) Sometimes I feel like there is so much work to do and that I will never ever catch up.
2) I never tire of petting my cat Smokey.
3) I love the charity Wounded Warrior Project because it strives to

help the bravest that protect us!


4) My dream job would be a craft/DIY blogger because I'd get to play most of the day and then write about playing most of the day!
Hilary is always looking for questions so head on over and join in on the fun! If she picks your question you get to co-host the hop! To follow along and join in the fun click here or the picture above.