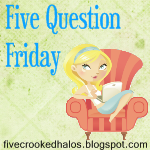 This week's questions &
My Answers:
1. Do you embrace or dread snow/cold weather days?
If I can stay home from work and have food in the house, I LOVE snow days! Otherwise I dread them.


2. Which game show or reality show could you totally win?
Price is right.


3. What is your preferred climate?

Hawaii. Hawaii is a climate right? Hawaii!
4. What do you buy every time you walk into the grocery store, no matter what?

Cold cereal.
5. If you see a spider/bug in the house, are you brave enough to kill it, or do you call for your hubby?

I have no problem with a bug but spiders I have BIG problems with. I call the hubby, the son sometimes I get the cat if no one else is around. I have called my dad at work, if I can't get ahold of anyone I leave the house until someone gets rid of it.

No, really I don't have a problem…
Head on over to FQF and join in the fun!
Thanks for taking a look!