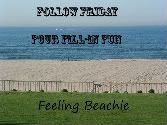 1. Making ____ is ____

2. I get ___ easily

3. The number of emails in my inbox is _________ and ____________

4. Traveling _______________ makes me _______________.
Making

a grocery list

is

totally worth it, as it saves me money and I don't impulse buy!


I get

distracted

easily
.

The number of emails in my inbox is

a constant battle

and it IS a battle I will win! (someday…)

Traveling

on short trips

makes me

want to live on the road all the time

.
Hilary is always looking for statements so head on over and join in on the fun! If she picks your statement you get to co-host the hop!
To follow along and join in the fun click here or the picture above.