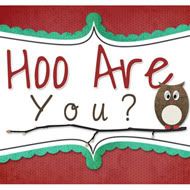 1. Do you exercise regularly and what do you do?
I would really like to say yes, but I can't. When I do exercise I like to walk.
2. Do you have any weird sleeping habits?
I have to sleep with two pillows that are made from a down comforter.
3. How often do you vacuum?
My husband does the vacuuming but he does it all the time. The whole house is done at least twice a week and the kitchen and family room several times a day. Think he might have an problem? ;)
4.Do you accessorize and if so what is your favorite thing to accessorize with?
I have earrings that I wear everyday. I don't wear much, I have lots but I just don't take the time to wear them.
5. What is your favorite drink during the summertime?
I drink Starbucks (hot) Peppermint White Mocha Not Fat No Whip year round!
Head on over to
Night Owl Crafting
and join in the fun!