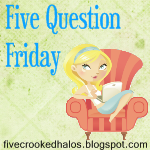 1.
Did you make any fun purchases this week?
No purchases this week but my stamps and dies from PTI that I ordered three weeks ago arrived this week! WOOHOO!

2. If you could go to any musical concert, what would it be?
Least - Bathroom Most - When someone else cleans the bathroom!
4. W
ould

you prefer new appliances or clothes?
Is this really a question? Clothes, hands down!
5.
Miracle Whip or Mayo?
Best Foods Mayo, I think this is Hellmans on the East coast.