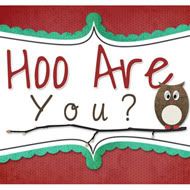 Here are this week's questions!
1. If you could choose one of your personality traits to pass on to your children, what would it be?
Integrity, doing the right thing and personal responsibility are the only way to live.
2. What's your favorite candy bar?
Hmm, this is a tough one... I eat a Snickers when I need a pick me up, but to eat just because probably a toss up between a 100 Grand and Reese Peanut Butter Cup.
3. If you could vacation anywhere in the world, where would it be?
4. What 3 adjectives would you use to describe yourself?
Honest, Quirky, Direct

5. In one word, how would your best friend describe you?
Trustworthy

*Dena said "Sassy" was the first thing that came to her mind. ;)
Head on over to
Night Owl Crafting
and join in the fun!