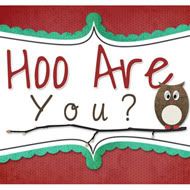 These questions all relate to school!

Here are this week's questions!
1. Do you prefer to use a regular pencil or mechanical pencil?
Pencil what is a pencil? Pen's all the way!
2. What is your favorite color in the crayon box?
Red

3. Bottled glue or glue stick?
I had a roll on liquid when I was in school.

4. calculator or do it in your head?
If you want it correct use a calculator.
5.Favorite subject while in High School?
Band! Had a blast!
Head on over to
Night Owl Crafting
and join in the fun!