I have seen
this
on
Lindsay's blog
a few times and thought it would be fun to try, so here we go.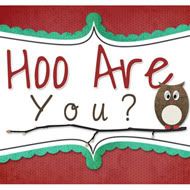 1. What is your favorite craft or type of craft and if you are a crafter how did you get into it?
My favorite craft right now is paper crafting. I love all crafts! My mom was into ceramics and tri-chem. I remember taking a tri-chem class with her, I couldn't have been more than six, in the back of ERNST hardware store. I have been crafting something or other ever since.
2. What shows have you been watching this summer?
I have been watching Real Housewives of NY and New Jersey. There is too much fighting so I think I am done with those shows. I have also been watching Weeds and Entourage. They are both great entertainment.
3. Who does the yard work at your house?
Husband! I'm no dummy and I HATE bugs!
4. Are you working on any projects inside the home or outside this week?
Not yet but I am hoping to start
this
soon!
5. Do you have to worry about getting ready for back to school?
Not this fall. My son is almost finished with his AA and is looking for a university for next fall. (While I save money!)
Head on over to
Night Owl Crafting
and join in the fun!
This is my first Hoo and was is fun! I will try and do it again.