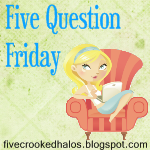 1. Where do you escape to when you've had enough?
2. What shows are you watching this fall?
House is the only thing I watch besides sports on regular TV. I do watch Real Housewives on BRAVO but they are arguing to much anymore for it to be any fun so I am not really watching that too often. Mostly I watch sports and the news.
3.
What was the longest roadtrip you've ever taken and where did you go?
1978 we went from WA to OR and then to ID, MT and WY. Yellowstone was a blast! Two weeks long and lots of miles.
4.
Do you plan on taking your kids to Disney World?
We went to Disneyland when my son was 8, we had a good time. I would liek to go again with just adults though. I think that would be a blast. My son is an adult now so I guess I could do both, go with my son the adult! :)
5.
What is something people would surprised to know about you?
Head on over to
FQF
and join in the fun!
Thanks for taking a look!