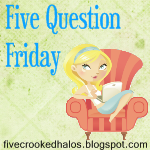 1. What is your go to comfort food or sweet?
Homemade mac and cheese.
2. What is the most romantic place you've ever been to?
The beaches of Maui!
3. What is your favorite thing about fall/Halloween?
I love the bright sunny days and cool nights. I love the beautiful color of the leaves.
4. How would you spend 24 hours alone?
Listening to music, surfing the net and crafting!
I am ready to do that now! Anyone want to take my 23yo son and husband off my hands for 24 (or more ;)) hours?
5. Does you husband bring you flowers? Are you the bring-me-flowers type of girl?
He had flowers waiting for me when I came home from my last trip.
I am not a big bring me flowers girl but every once in a while it is nice.
Head on over to
FQF
and join in the fun!
Thanks for taking a look!