Edited: I am blaming being really sick for the last few days on linking up the wrong post... Sorry for any confusion.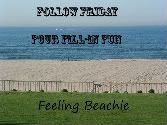 I am afraid of spiders. Even on TV. I don't like to see them or think about them, no matter the size. I have nightmares about them and have almost pushed my husband out of the way to get out of the bed running, in my sleep, from the spiders...
My craft room is my favorite room of my house. I am surrounded by all the things I love and all the possibilities that can be dreamed of.
The last time I was in Scottsdale, I couldn't believe how fast the time went.
I got my first earrings when I was 13, my grandparents wanted me to wait until I was 16, but my parents let me do it anyway!
To follow along or join in the fun click the picture above.
Thanks for visiting!