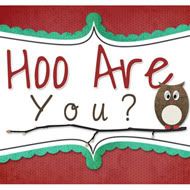 Here are this week's questions!
1. Do you sleep with the window open or the fan on no matter
what the weather is like?
Neither, my used to sleep with the window cracked year round but I broke him of that habit!
2. What is your favorite comfort food?
Homemade Mac and Cheese!

3. Do you ever go to a chiropractor?
I used to go all the time but my insurance stopped covering it so I don't go much if at all anymore...

4.What is your most memorable Halloween costume growing up?
I don't remember any of my costumes but my mom dressed up as a pile of leaves one year. We took a black garbage bag and stapled dry leaves to it! She looked really cool!

5.Do you prefer the sunrise or the sunset?
I like them both but I am usually only awake for sunsets!
Head on over to
Night Owl Crafting
and join in the fun!
Thanks for taking a look!